Our Deaf Awareness & Communication Tactics courses can be delivered as:
certificated course (Signature) – normally 1 day
non-certificated course – from half-day to 2 or 3 hour sessions
Why not include an introduction to BSL (British Sign Language) – half or full day
Online Deaf Awareness – suitable for front-line staff who cannot attend 'off-site' training
Courses delivered to suit your organisation. We work around your business and people needs. 'contact us' to discuss your requirements.
---
Deaf Awareness & Communication (DAC1)
Who is this for?
Developing Awareness and Communication with Deaf & Deafblind People (DAC1) is primarily aimed at everyone who is in contact with the general public. Especially those who are in front-line public services.
What is included in the course?
With around 1-in-6 of the adult population being deaf to some extent and experience communication barriers in everyday life we have a number of solutions to your training needs.
This course provides an introduction to, and a basic knowledge of, the whole range of D/deaf and deafblind people (i.e. deaf, deafened, deafblind, hard of hearing, Deaf BSL users, Deaf visually impaired, blind hearing impaired and people with congenital deafblindness). It assumes no previous experience or knowledge.
---
Deaf Awareness, Communication Tactics with Introduction to British Sign Language (BSL)
Who's it for and what's it about?
This course is aimed housing officers, housing assistants, maintenance staff and other front-line personnel who may, in their everyday duties, come into contact with people who may be *deaf. This course is designed to provide participants with the basic ability to communicate with Deaf people in British Sign Language (BSL) about familiar, day-to-day topics and activities within the given domain.
The course is delivered by a mixture of tutor-led activities, group work and practical exercises.
*The term 'deaf people' covers those who have a profound/severe hearing loss, deafened, hard of hearing and those who may use sign language as their preferred means to communication.
Terminology and statistics
What is deafness – truths and myths
How deafness can affect speech & language
Hearing Aids – benefits & limitations
Communication Tactics – 'tool box'
Fingerspelling
Introduction to British Sign Language (BSL) – work
based signs.
---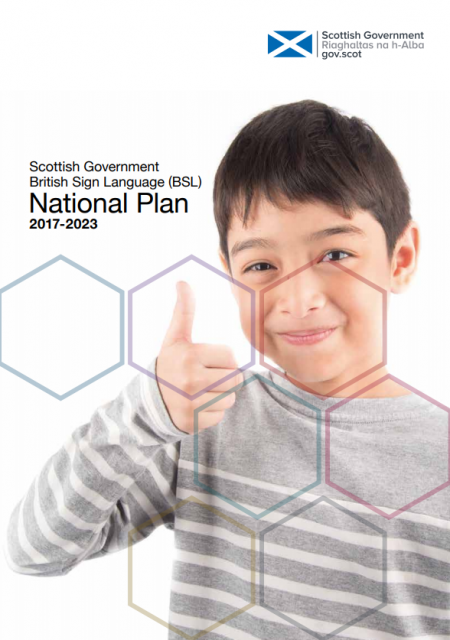 NEW for 2018
British Sign Language (BSL) Awareness
We can provide courses that satisfy the requirement under the BSL (Scotland) Act – National and Local BSL Plans for staff working within the public sector to become aware of BSL as a language and promote the use within their service delivery and working environment.
Half day or full day options.
Contents include (not exhaustive):
What is a visual gestural language
Why use sign language
Sign Language in practice
Tactile methods of communication
Deaf Culture and communication
How to ensure BSL users can access to your services
In discussion with our trainers and yourselves, we can provide you with a course that suits your needs.
---
SQA Levels 1 to 3 in British Sign Language (BSL)
We are now in the position to offer SQA (Scottish Qualifications Authority) accredited course in BSL.
More information will appear shortly.
If you would like to discuss how this can fit in with your needs, either as an individual or as an organisation please contact us and we can take this further.
---
E-Learning options
We developed two e-learning packages under the brand 'AWARENESSbites'
AWARENESSbites is aimed at staff providing public facing front-line services – public sector, industry and commerce, further and higher education – indeed, anywhere that communication takes place between a service provider and a member of the public.
Not every employer can release staff for either a half or full day training course due to cost, staff cover, travel etc. E-Learning allows flexibility for staff to learn around work schedules and demands.